How to connect to Canternet IRC Network Via KVIrc
Step One
Click on the Configure Servers Button, This should open a Dialouge
Step Two
Click on the Globe at the top right hand corner of the new Dialouge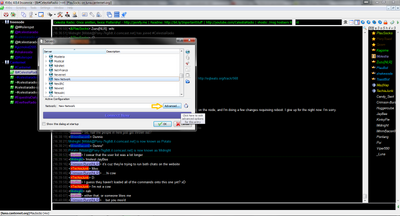 In the Text Field near the bottom of the Dialouge box enter a name for the network, E.g. Canternet
Click on the Advanced... Button next to the text field
Step Three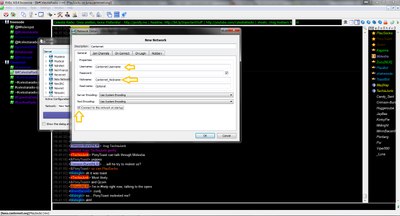 Part of this next step is Optional
In the New Dialouge box, near the bottom right hand corner there is a Checkbox, Click it to enable the network to automatically launch when you start KVIrc
You can optionally add your Canternet account info in the above text fields if you wish, you can do this later as well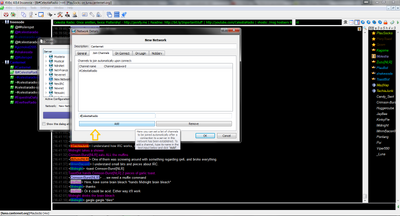 Optionally, you can add channels to join once the network connects by clicking on the Join Channels tab
To add a channel, type the channel name e.g. #celestiaradio, into the box above the Add button, and click add
Once done, Click OK
Step Four
Next, Select your New Network and click New Server on the upper righthand side of the window, below the globe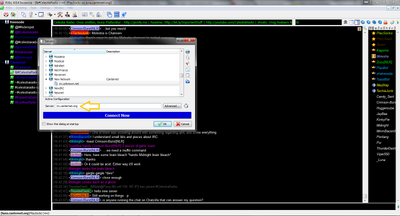 Next, Enter irc.canternet.org into the text box above the Connect Now button
If you did not add your account info or channels to join on startup, Click Advanced... And continue to the next step, Otherwise click Connect Now to connect to the network or OK to do so later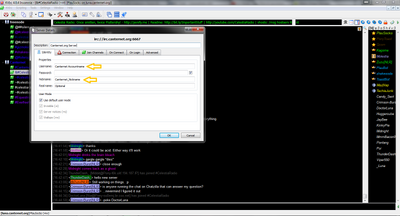 Step Five
At this point you should enter your account information into the appropriate fields, including your nickserv password used to identify to your account
If you do not have an account, come back and fill this out later by following the previous step
After everything is set up, you can click the Connect Now button to connect to the network and enter the chat, or you can click OK to do that later
Just make sure when you exit your client you use the proper method of quitting and dont either end the process or click the x in the upper right hand corner, doing so may not save all that hard work!
Sit back, and enjoy your newly configured client! C:
Ad blocker interference detected!
Wikia is a free-to-use site that makes money from advertising. We have a modified experience for viewers using ad blockers

Wikia is not accessible if you've made further modifications. Remove the custom ad blocker rule(s) and the page will load as expected.